Zircoa, Inc. (Solon, Ohio USA) accepts transfer of all Zircoa product business activities from DIDIER Vertriebsgesellschaft mbH (Wiesbaden GERMANY) and with this change forms Zircoa GmbH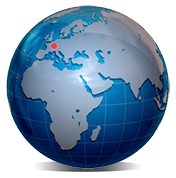 For more than 20 years DIDIER served as representative for many of Zircoa's products to much of Europe and parts of Asia. The successful relationship of these two respected refractory materials manufacturers expanded both awareness of Zircoa (the company) and their market share in areas of world not (at the time) served directly by Zircoa, Inc.
Zircoa, Inc. President, Ronne Proch: "We strive to exceed the customer's expectations. DIDIER, as our representative, was an embodiment of that goal. With the torch now passed and with the formation of Zircoa GmbH, we reaffirm our commitment and will continue to back it up with the excellence in product support and customer service. Existing customers may rest knowing that with the formation of Zircoa GmbH; nearly all existing staff will remain."
Zircoa GmbH will further its market development and grow it sales activities into Eastern Europe, Russia and other EMEA member countries. As part of this growth, Zircoa GmbH seeks the development of relationships with other ceramic and refractory materials companies with products complementing Zircoa's and sharing similar sales objectives in the target markets.
Zircoa GmbH Managing Director, Thomas Boehm states: "We are very enthusiastic and look forward to continuing the successful sales and marketing for Zircoa, Inc., on this side of the Atlantic, as Zircoa GmbH. As experts in application technology with an impressive choice of specialty ceramics and skilled supply chain management, further growth in many demanding applications is virtually assured."
Zircoa, Inc. engineers and manufactures a range of ceramics and refractories based upon zirconium oxide and other advanced ceramic materials for nearly all industries. Their materials and products perform in the harshest and most demanding environments imaginable. The formation of Zircoa GmbH expands the reach of the core business and broadens its scope with the introductions of new materials and technologies, including crystal growth, environmental controls and high temperature processing in excess of 2100°C.